Deep Tissue Laser Therapy in
St. Peters
Deep tissue laser therapy is a non-invasive and FDA-approved care option for musculoskeletal syndromes, injuries, and disorders. It works by stimulating cells in the affected part of the body to produce more energy, allowing damaged cells to heal themselves more rapidly than without it. This results in significantly shortened healing times and reduced pain levels.
Conditions We Help With
This therapy may be used to treat a wide range of conditions, including:
Sprained ankle
Chronic neck pain
Chronic joint pain
Tennis elbow
Carpal tunnel syndrome
Plantar fasciitis
Ankle and wrist sprains
Rotator cuff problems
TMJ
And more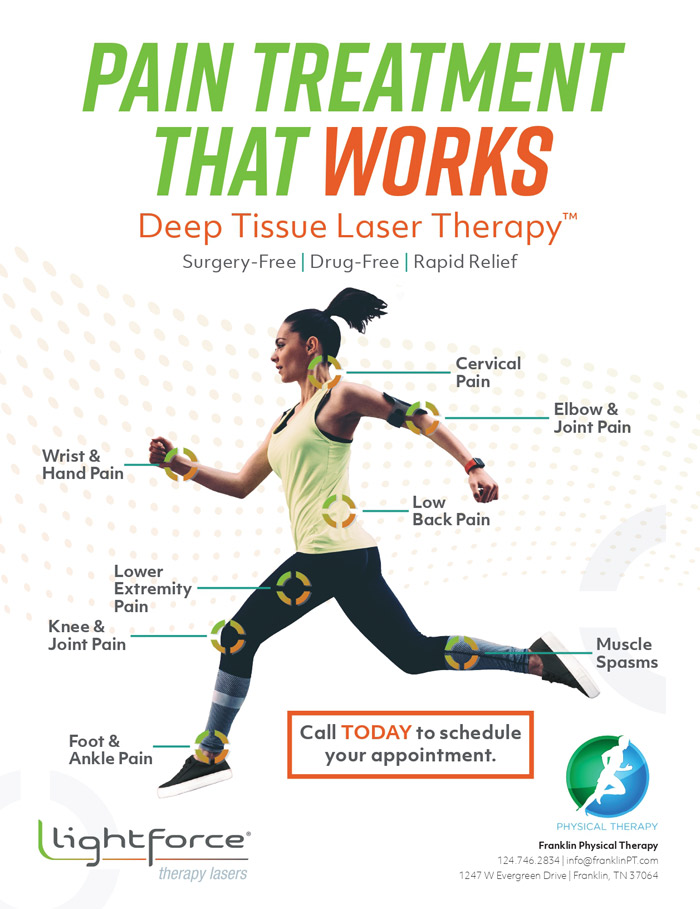 What to Expect
Before recommending this method, our chiropractor will first assess and diagnose your condition, and recommend a tailor-made care plan that suits your needs. If laser therapy is recommended, we offer you a free trial session to evaluate how effective it may be for your specific case.
During the process, you will feel a deep penetrating warmth caused by the significant amount of energy the light energy delivers to your body. However, this warmth is just a side effect of the laser's work; the light energy provides the therapeutic benefits. This process is completely painless.
How It Helps
Some benefits people have found include:
Shortened healing times
Reduced pain levels
Strong anti-inflammatory effects
Non-invasive and painless procedure
No downtime required
A typical joint sprain that might take six weeks to fully heal might only take a couple of weeks to heal after receiving this therapy.
That's why both college and professional sports teams keep laser therapy in their training rooms. Not only does it help their athletes heal faster, it also keeps joints healthy by removing any inflammation, so they function better.
Schedule a Visit Today
At Cardinal Chiropractic of St. Peters, we're committed to providing our patients with the best possible care options. We believe everyone deserves the opportunity to experience the benefits of deep tissue laser therapy.
Insurance coverage is not available for this service, but our rates are very reasonable. Contact us today to schedule your visit and learn more about how this therapy might help you recover faster.
CONTACT US »

Deep Tissue Laser Therapy St. Peters, MO | (636) 352-0380