Meet Dr. Richard Blalock
A Passion for Helping Others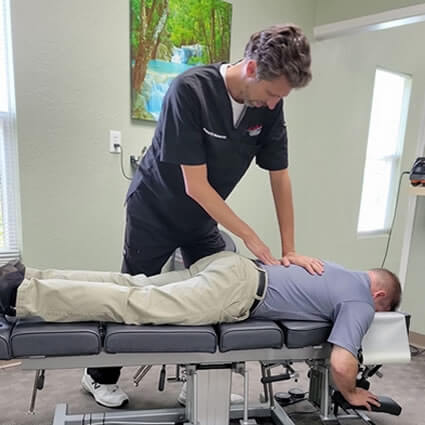 Dr. Richard Blalock's core personality is someone who always wants to be of service. Not just in the healthcare realm—in any area of life, if someone needs assistance, he will be there to help.
Understanding this about himself, Dr. Blalock wanted a profession that would allow him to be of service in an impactful way. He studied biology at the University of Missouri-Columbia and pondered possible careers.
As a young teen, he had been to a chiropractor for a few visits to address an issue he was having at the time. He loved how chiropractic care made him feel. Remembering this, he sought out several chiropractors to shadow so he could learn more about the profession.
At all the different chiropractic offices where he shadowed, patients loved coming in for care—they were happy because they knew they were getting results. Dr. Blalock knew then that chiropractic was the right path for him. He received his Doctor of Chiropractic degree from Logan College of Chiropractic in December 2010 and opened Cardinal Chiropractic of St. Peters the following month.
A People Person
Dr. Blalock's inherent empathy makes him genuinely concerned with helping patients achieve their health goals. He has personal experience with the life-changing benefits of chiropractic care for scoliosis, and patients appreciate that he can relate to their own health struggles.
Always keeping in mind how he would want to be treated—and how he would want his wife and children treated—he gives 100% to helping every patient achieve their highest possible potential for health.
Additional Training
Dr. Blalock holds several postgraduate certifications in orofacial pain and temporomandibular joint dysfunctions. In some cases, he collaborates with his wife, Dr. Cynthia Blalock, who is a dentist and has an office next door to ours.
EXPLORE OUR SERVICES »
Away from the Office
Dr. Blalock and his wife have two young kids, and when he's not spending time with the family, he can usually be found doing home renovation projects. And, of course, supporting Cardinals baseball!

Dr. Richard Blalock | (636) 352-0380